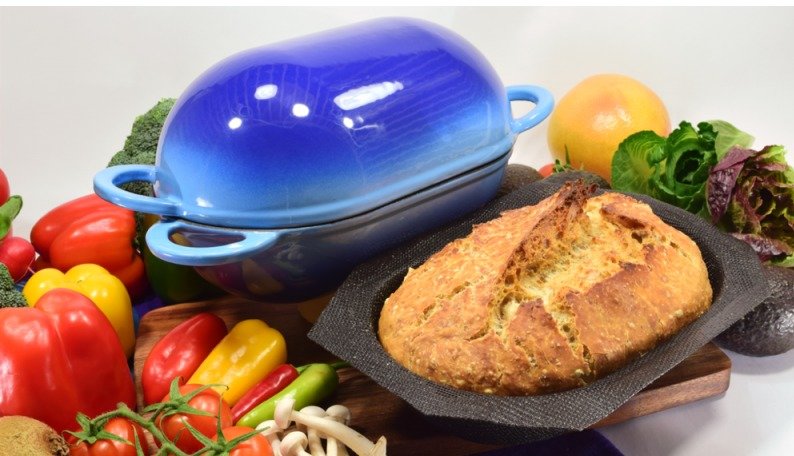 Over the last few weeks we have been trying a few scratch bakes with our flours in the recently launched LoafNest from The Netherlands.  Whilst we have one to give away, they are available from the TRFL Website and the first 50 have an amazing €60.00 off the recommended retail price when you enter Wrights Baking Debs Blog in the promotional code section – nice to know I have my uses!
Said to be No-Kneading, No-Shaping & No-Cleaning, the LoafNest makes amazing bread every single time with less than 5 minutes of effort.  Simply place the dough in the LoafNest's perforated easy peel liner. With the no knead recipe and the liner technology you could enjoy highly hydrated doughs like Sourdough.  The LoafNest recipes can be viewed on the link here
Simply mix your flour, yeast, salt & water with a fork and let time do the rest. With the specific design of the highly thermal LoafNest, the dough receives uniform heat distribution as well as the trapping of steam, always allowing for a great crust! You can put your own twist on your breads created with LoafNest like this delicious spinach loaf or olive bread.
To help them get LoafNest off the ground we are able to offer one as a prize to a home baking club member, one name will be pulled out of the electronic hat! Just to let you know, TRFL is a small and ambitious product development startup based in Eindhoven, The Netherlands. They had the LoafNest on Kickstarter and approached us earlier on in the year. We all have to start somewhere, so we thought we should let you know about this beautiful looking item that we have very much enjoyed working with here.
To be entered in the free draw, you must be a member of our free Home Baking Club and to win a LoafNest you simply e mail Claire or myself with your name and address to [email protected] and have LoafNest in the subject heading.  The draw will close on Friday 14th December at 10am so the lucky recipient will have the LoafNest in time for Christmas.
They are offering Wright's baking club members an exclusive discount of €60.00 off the online price on orders placed before Christmas, so click on the link below to reserve yours now.
The LoafNest is available from their TRFL website or via Amazon. Simply click the links to check it out.
Good luck – Deb the Bread